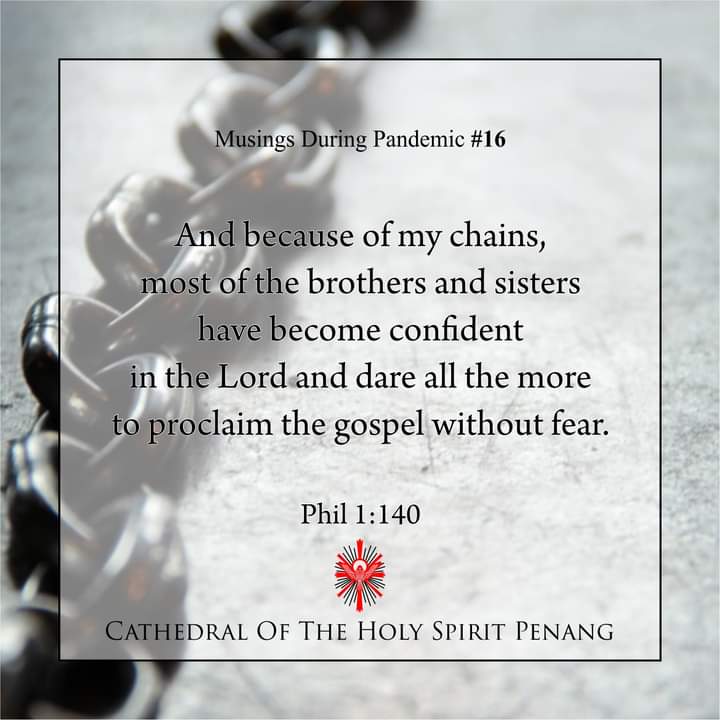 I have been recovering from a long term illness since mid-2017. For a long time, I struggled to accept my situation and was angry that God had let this happen to me. What could I have possibly done that God was punishing me by bringing me down to ground zero? I had nothing and the nothingness began to engulf me.
After failed attempts to end my life, I came to the realization that God wanted to keep me alive for a reason. And thus, began my journey to search for my purpose.
To keep myself occupied, I began to watch videos on Facebook. One of these videos were of a sermon from a Christian pastor. The sermon was based on Phil 1: 12-26.
St Paul was writing from prison about how that although he was in chains, he was happy and joyful because he had the infinite knowledge that his chains were ultimately for the glory of God, He didn't choose the situation he was in and yet, here he was. He was faced with a decision – He could either be bitter about it because God had allowed him to be in this situation and wasn't making haste to get him out of the situation or he could put his faith in God and praise Him through his bleak situation.
As we all know, St Paul chose the latter and as the Bible tells us, his chains loosened and the prison shook as he sang praises to the God he so loved and served for 30 years. His situation changed when he made the choice to choose his chains. If he didn't praise God, his chains wouldn't have come loose!
This revelation hit me hard. Here I was, asking God to change my situation and I promised to do His will when I was back to myself, when instead I can use my situation to glorify His name NOW! Hence, I chose my chains .I chained myself to the grace of God and asked Him for forgiveness, courage and strength to share my experience to let an increasingly hopeless world know that there is a God of Hope and Love.
I learned that once I chained myself to God, no matter how bad a situation looked, He would never let me down and He is ALWAYS close. Yes, there are times when I struggle, but all I need to do is to humbly ask God to be patient with me as I make the choice to redirect my focus back to Him. Today's choices are tomorrow's chains.
The pandemic has caused many to go into despair and desperation and it's hard to see God in all the uncertainty. But, I am here to assure you that in the midst of uncertainty, no matter how overwhelming the situation may seem, God is working on your situation. His timing is perfect, though you might not see or realize this at the beginning trusting God is never easy but it is always the right choice. Just remember, temporary decisions could have permanent consequences.
Choose wisely.

Prayer: Father, Thank you for first choosing us and sending us Your son so we have the privilege of chaining ourselves to You when we have lost our way. We confess we are weak especially when we feel overwhelmed when life throws us unexpected curve balls. Help us to remember to always keep our focus on You. Amen.