By Fr Francis Anthony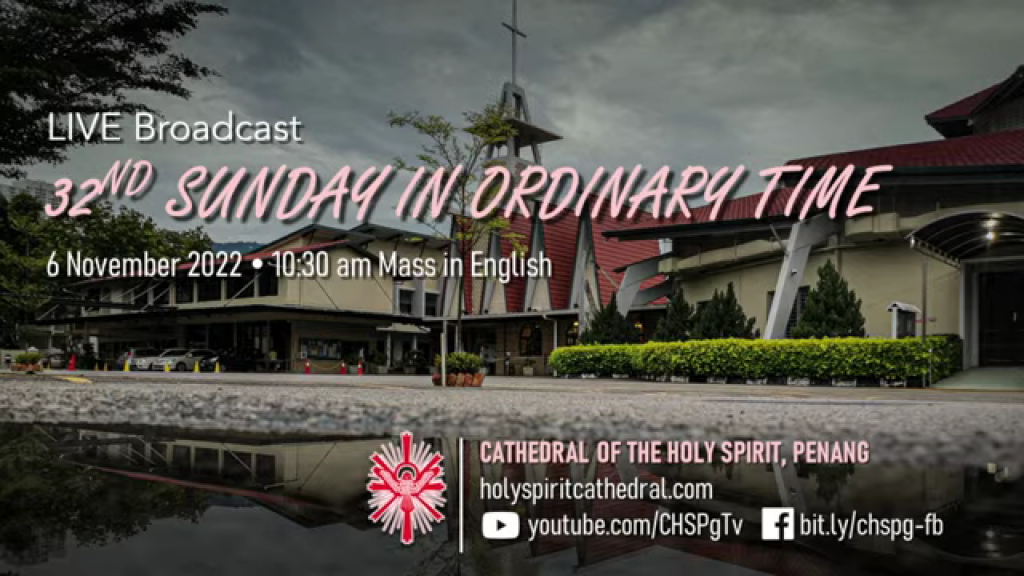 2 Maccabees 7:1-2,9-14
Psalm 16(17):1,5-6,8,15
2 Thessalonians 2:16-3:5
Luke 20:27-38
Theme: Our New Life in Christ
Dear friends,
We have come to very important days due to the coming of the General Election. Let us take it seriously. Let us not say 'Hey, what's the use? We were able to do some change and they were able to bring about other changes'. No. It is our duty. I would not use the word 'It is our right.' No. It is our duty, our obligation to play a role. We can be cheated but that does not mean I sit back.
And the Responsorial Psalm very fittingly says in the 2nd verse that we have. And here what the psalmist is praying and we are praying:-
I am here. I call.
(I = all of us physically present here and the many millions of others)
We are here. You will hear me, O Lord.
Turn your ear to me, hear my words.
We are beseeching God at this juncture that to help each one of us to make a responsible decision. Do not become complacent or say 'What is the use?' We keep striving, we keep going forward.
I can say the next five years are in our hands. Not in the hands of those 222 who are going to be elected out of the 945. We want whom to be there? And to make that a very serious decision, it falls upon us. We have to do our homework. Who are the guys there? What is their role? If they had been in political field earlier, what is their track record? Can I trust my life to him?
Yes, my dear friends, these things should come to our mind when we are having this 'ceramah' days. You will/may be going to hear some of them. I would just say 'Read what they are not saying.' They promised heaven but have they responded to the needs, our needs, while they were in power?
I am not saying who are the new guys coming into the field. Well, we have to study them. But the parties are practically the same with the exception of one, one group. How did they look to our needs? Not to their needs? As I said jokingly, just because one road was repaired and one lamppost was put somewhere, so that is heaven on earth.
What is the future of our children? And your grandchildren? It is not just 'I did this.' With their policies, are they giving us bright hope?
My dear friends, this is very very important. I am not trying to become political but this is in important factor for us. And in our Second Reading, we are asking God to help us. Saint Paul writing to the Thessalonians, he is speaking of asking them to help and he is saying:-
May our Lord Jesus himself and God our Father turn towards us.
He is writing to Thessalonians and they are the new converts and among them, many non-Jewish people, and asking God to turn to him and then he says:-
May we be preserved from interference of bigoted men and women.
He's praying for those people that they will be protected. And that is the situation we are in when we make that 'cross' on that voting list. We are, be very serious, and as for us Catholics, let us not play the fool with the cross. And it so happens we Christians are putting that cross. We are putting God on that sheet. And then the next line it says:-
And we pray that we may be preserved from all this bigoted people
And preserve us from interference. Preserve us from trickery, preserve us from false promises.
So dear friends, let us pray. And in our parish, we have organised days of prayer, every Monday to Friday, 8.30pm to 9.30pm we will have the Blessed Sacrament exposed and we pray. And Father Fabian will be here to give the short reflection. We pray.
These are important days that we will be having, be given the grace to control our future. Yes, when our future is not just my tomorrow but my children and my grandchildren. Let us take these election days very seriously and let us do our homework. Let us study all those candidates. Well, I'm not going to study all the other candidates. I am going to study the candidates who are standing in that area where I vote. It is only then we can be faithful to our promises that we have made:-
Love God and love neighbour
So, my decision is going to help my neighbour to have a good life.
Click below to listen to the homily and watch the video:-