By Fr Joachim Robert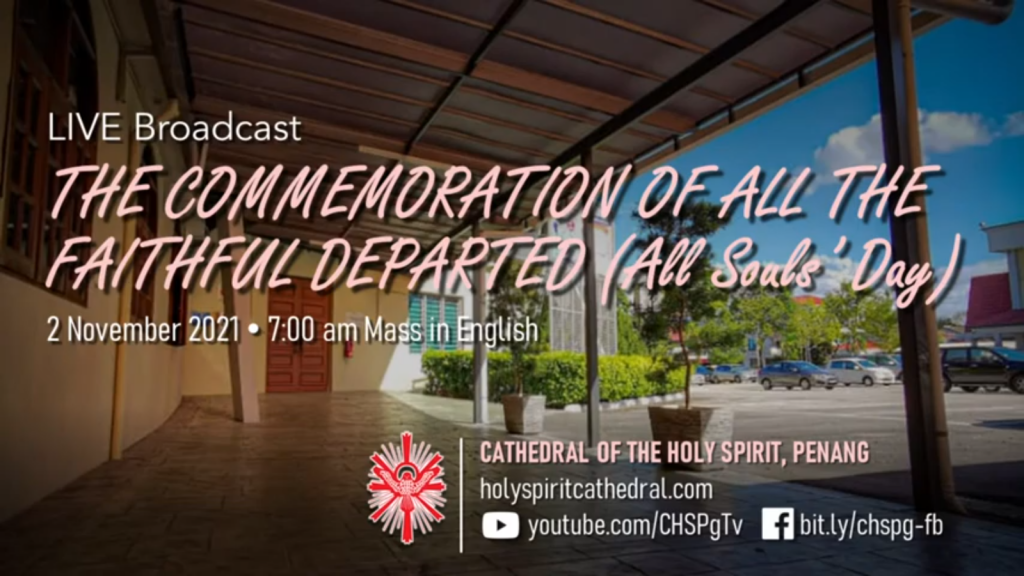 Isaiah 25:6-9
Psalm 26:1,4,7,8-9,13-14
Romans 5:5-11
Mark 15:33-39,16:1-6

New Life in Christ

Dear friends, as we commemorate All Souls' Day for the faithful departed, I am sure many of you have visited the graves of your loved ones. As good Catholics, I too went to visit the grave of my dad. And when I was visiting the grave together with my mom and my brother, and having spent some time in prayer, reflection and also to pray for our own journey that we have taken together with our dad, it made me realise two things, dear friends. Because while I was driving, I was alone and it made me reflect on that whole experience. As I reflected when I was driving back, two things came to mind: what I have lost, what I have gained.
What I have lost made me realise that, yes, it is indeed a sad moment for having lost my dad in such a young age, that I did not have sufficient time to spend together with him. And that made me realise of the fragileness of human life where we do not do whatever we can during the lifetime that we have together with our loved ones. There were so much of things to say, so much of things to do together and so much that you feel burdened because you did not have sufficient time together. As I was reflecting on what I lost, it also made me realise of the value of human life as well, where we do not put relationships, we do not put persons/people, in the forefront in our journey of life. Because sometimes whenever we do not do what we can in their living years, we sometimes will be unable to do anything anymore.
But on the other hand, if you look carefully as well, as much as I have lost so much, I have also gained a lot more because of that experience that I had together with my dad. Even though the time was short, I have about 20 over yeas together with him, for me to cherish those experiences of life that I had together with him. And even my family too they had that moment together. These are moments that I cherish, these are moments that I feel thankful for, being grateful for. Because even in those situations, in those difficulties, dear friends, of feeling the pain and loss, it has made me the person who I am today because of that experience that I have encountered.
In that same way, dear friends, you and I are also called to look at this celebration of All Souls' Day, to look at what we have gained, and to look also at what we have lost. Because every person that God puts in our lives, dear friends, God enriches us in our own experiences of life and God also enrich that person also in their life. Because God never makes mistakes.
So as we celebrate this celebration of All Souls' Day, and as a parish, you know that we have lost so many of our loved ones during this time of pandemic, whether it is family, parents, children, friends, so many people whom we love. And these memories, dear friends, brings us to this realization of the fragileness of human life. And we ought to do what we can, the best we can, to heal that broken relationships, to heal what is petty in order to gain a new life with God. Because you might not have the opportunity and the time together.
And as we pray for our loved ones as well who have gone before us, we are also reminded that they are not far from us. And as yesterday's opening prayer indicates, these are people who are now intercessors in heaven, praying for us. And they are people who are journeying together to return to God's eternal embrace, going through this moment of purification so that they can find rest, find peace, find consolation in God. Because for us, dear friends, life is change at death, not ended. We too with the memories that we have together with them, we can continue to feel that closeness, to feel that relationship that we have built because the time that we have spent together with them are etched in the memories of our hearts.
So today we pray, we pray for all those who have gone before us, all the souls that departed whom we can remember and who have no one to pray for, or someone who have been forgotten. So we remember all of them, especially whenever we pray this Eucharist today so that they are remembered and whenever they are remembered, we also are called to reawaken in our own lives as well the fragileness of human life and to do the best we can so that we can live as a faithful disciple of Jesus.
Just like Jesus went through his passion, death and resurrection to enter into a new life, we too are given the same opportunity, dear friends, to die to ourselves and to rise to new life in Jesus, and together in our reconciliation, in building and patching our relationship, we indeed build God's kingdom of love, peace and joy.
Click below to listen to homily:-