by Fr Joachim Robert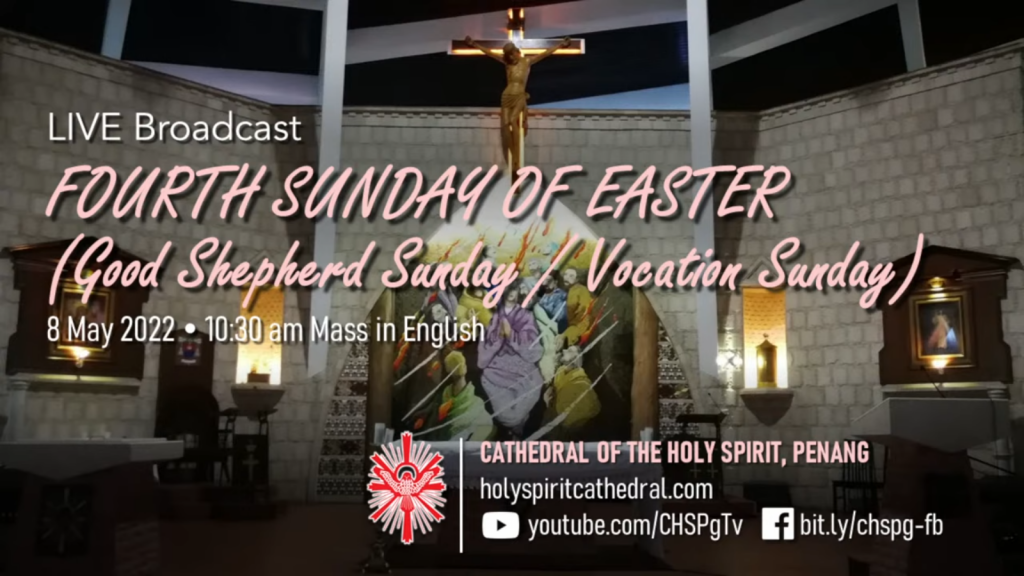 Acts 13:14,43-52
Psalm 99:1-3,5
Apocalypse 7:9,14-17
John 10:27-30
Theme: Listen and Follow Jesus our Shepherd
Dear friends,
Today we have a number of celebrations that we need to think about and reflect upon.
The first thing is Good Shepherd Sunday where we pray for all vocations. Secondly, we have this World Day of Prayer for vocations. Thirdly, we have Mother's Day and fourthly, we have our Deanery Level Diocesan Synodal Journey. And all these, dear friends, all the celebrations that we are looking at is an invitation for us to listen to that voice, to listen to the promptings of heart where the Holy Spirit is leading us and guiding us. Because only whenever we are able to listen do we know where we should go.
And Jesus says, "The sheep that belong to me listen to my voice. I know them and they follow me."
So only whenever we are able to hear, dear friends, the voice of the Good Shepherd leading us forward are we able to follow. And I am sure that invitation to follow Jesus is not an easy one. Each one of us have our own struggles in how we respond to that voice of the Good Shepherd. But all of us are called. All of us are given this invitation to follow the voice in whichever circumstances, whichever situations and vocations of life that we choose.
And Pope Francis' message for the World Day of Prayer for Vocations, he says (he gave a few things for us to reflect upon and I would like to take two of them):-
Number one – He says we are called to be protagonists together of the church's mission. That each one of us, dear friends, are agents of change in the mission of the church and we must do this together. We cannot do this in isolation. He says 'Synodality', a journey together, is fundamental to the church. And we know that the church exists to evangelise, to go forth, to sow the seeds of the Gospel in ministry and the mission can only be carried out if all areas of pastoral activity work together, even more importantly involving all of God's disciples.
And as we strive to listen to that voice of God, the voice of Jesus leading us forward, we must remember that walking together is a journey that we must take because the Lord does not call each vocation in isolation but He calls each vocation to be walking together in building His kingdom and His church. And that is our mission.
You and I, dear friends, have various forms of charisms, gifts and talents. And each one of us are called to respond a little differently but all working together for the greater mission of the church.
The other thing that he calls us to do is all of us, each and every one of us, are called to welcome God's grace. If we do not look lovingly in the gaze of God who lovingly looks upon us, then we will be unable to resonate to where He is leading us. And he gives an analogy. He said Michelangelo, a famous poet, sculptor and artist, he says Michelangelo maintained that every block of stone contains a statue within it. And it is up to the sculptor to uncover it. If that is true for an artist, how much more it is true for God.
And here, dear friends, we must recognise in the same way of how Michelangelo was able to look at the block of stone and come out with a pieta, God sees each and every one of our hearts. God sees each and every one of our gifts, talents. God knows each and every one of the vocation that He wants us to respond to.
And if we respond in love, He knows our capacity. He knows our hearts and again, if an artist can see that in a block of rock, or a stone, how much more can the Lord see the goodness of our lives. The one who created us. And he says that is what happens in every vocation. We are met by God's gaze, who calls us into Himself. And he says vocation like holiness is not an extraordinary experience, reserved for just a few but it is an invitation for all of us, for everyone, to work for the greater mission of the church.
And today in particular, we look at mothers. As we look at mothers whom God has beautifully created as His masterpiece, and the quote from St Theresa of Lisieux says:-
The loveliest masterpiece of the heart of God is the heart of a mother.
And each one of us, dear friends, have gone through that path of entering into that relationship with a mother. And that mother who brings us to birth, nurtures us, gives us support, encouragement, emotionally, spiritually, physically, makes us realise that these masterpieces are given to us as a gift so that we are able to appreciate the loving gift that God has given to us.
And as a child responds to the mother in knowing how the child is able to respond in love, and a mother knows when the child is sick, the mother knows when the child is uncomfortable, the mother knows how the child is restless. In the same way, dear friends, we need to be reminded that our mothers are reflections of God's love. In a way, through them, we encounter God's mercy, God's love because they are put in our lives for a reason.
And today as we celebrate Mother's Day, we want to give praise and thanks to God for the many, many things that mothers do in caring for the family. And many of the things that mothers do often go unnoticed, often go not visible. But we cannot take that for granted. We must be reminded that as the mothers listen to the voice of the Good Shepherd, as mothers listen to the voice of God in their lives to become a mother who is able to nurture and bring the child up in faith and in their life, we too are reminded to be responsible, to be faithful in our own vocation journey as well.
And the third thing that Pope Francis calls us to do is that we need to work together for a greater building of our fraternity. For a greater building of our community wherever we are. Again, each one of us do not live our vocation in isolation but we live together as one community, as one church.
As a parent, as a father, as a mother, as a priest, as a young person, as a child, as a son, as a daughter, each one of us, dear friends, have our own role to play. And if one of us are able to respond to the voice of the Good Shepherd, to say that we love God, to call us from the darkness of our lives into the light of God's grace. Each one of us, if we have that common mission to be faithful to our calling, to be faithful to the voice that God has put and placed in our hearts, we can respond in love and we can impact so much of changes in the world.
So let us pray, dear friends, on this Vocation Sunday, on this call to pray for more vocations as religious, as priests, but not forgetting as well our own call to remain faithful in this universal call towards holiness. And let us pray that it is not about making our dreams come true but it is allowing that grace of God, to allow God's dreams to come true, the great vision of fraternity, the great vision that Jesus cherishes that all may be one.
And just as the Father, Jesus says in the Gospel today, the Father who gave them to me is greater than anyone and no one can steal them from the Father. The Father and I are one.
And each one of us, dear friends, are called to that loving relationship to acknowledge that God is a loving God who calls us from the darkness of our world into his wonderful light. And let us listen to the voice of the Good Shepherd as He leads us to greener pastures, as He leads us to eternal life.
Click below to listen to homily and watch video:–