by Fr Joachim Robert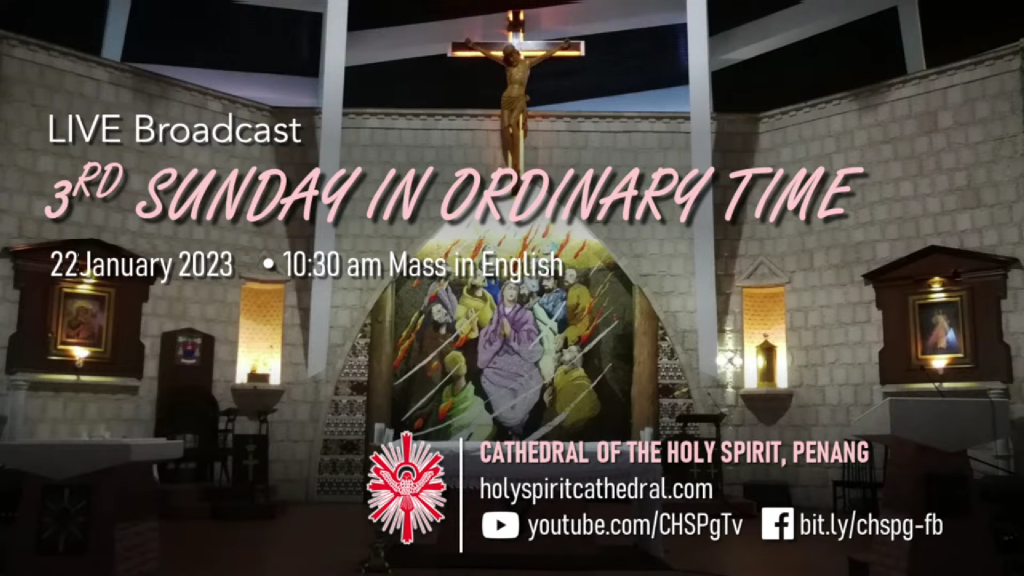 Isaiah 8:23-9:3
Psalm 26(27):1,4,13-14
1 Corinthians 1:10-13,17
Matthew 4:12-23
Theme:
Come, Follow Me and I Will Make You Fishers of Men
Dear friends,
As we begin this journey into this Lunar New Year at the beginning stage of our calendar, we come to realise that the church gives us this Word of God Sunday, a Sunday that is dedicated to the Word of God which is Jesus himself. The Word of God made flesh. It highlights the importance of the centrality of Jesus in our decisions, in our life and in everything that we seek out.
And the readings of today, dear friends, highlights that even in moments of darkness, even in moments of struggles, the Lord never gives up hope on His people.
And as we take a look at our own journey, our journey towards the previous year, a journey that has been a struggle, a journey perhaps that was full of challenges, a journey perhaps that is full of obstacles, a journey that we had to grow in relationship, a journey perhaps that we had to deal with broken relationship, a journey perhaps that we have to deal with losing someone we love.
And in everything, dear friends, in all these aspects of our lives, whether they lead us astray, whether they draw us closer to God, we need to approach those moments with a heart of gratitude. Because those moments, dear friends, those moments of darkness as it is expressed in the First Reading of today from the Prophet Isaiah, it says:-
In the days past, the Lord humbled the land of Zebulun in the land of Naphtali but in days to come, He will confer glory on the Way of the Sea on the far side of the Jordan, province of the nations.
And these are places of gentiles, dear friends, people who did not know God, people who did not seek God at that point of time. But in that hopeless and helpless situations, the Lord restores their hope, that the light will shine from there.
As we look at our own journey, very often we may be wallowing up in our own self-pity, in our own self-esteem, in our own way of how we have dealt with things and perhaps all these dark areas of our lives are places where we are sapped of our energy, where we lose hope. But here in the Gospel, Jesus goes to that land and says:-
The people in darkness have seen a great light.
And let us ask that question, dear friends, what are the light that we have seen in those moments and who were the light that was shining in and through that darkness?
And there as we see that, as Jesus goes to the land of Zebulun and Naphtali, at the beginning of His ministry, he said from that moment, Jesus began His preaching with the message 'Repent for the Kingdom of God is close at hand.' and he goes on to call his disciples.
And the call story of Simon and Andrew, James and John, is quite interesting because they were focusing on their own issues, with their own sense of security, their own sense of relationship that they knew. Peter and Andrew were fishermen and they were doing what they know best. James and John too were fishermen but they were with their father in the boat. And what is interesting, dear friends, is when Jesus calls them, they left everything, their security their boat, their father and they followed after Jesus because Jesus, the eternal word of God, leads them to a greater awareness of themselves.
And as we approach this whole Lunar New Year, if we are in a situation like the people who are in the land of Zebulun and Naphtali, those who were in those dark moments, this New Year becomes an opportunity where God restores our hope. He gives us a new opportunity, a new year for us to put our faith and trust in Him once again. To leave our nets, to leave our boats and to cast our vision on Him.
As He leads us forward in this Lunar New Year, we are called to put our faith and trust in this God who never abandons, even in those helpless and those broken situations of the land of Zebulun and Naphtali, God can allow the light to shine in and through them, in the same way that He can do the same thing in our lives, dear friends. But are we willing to take that step forward together with Jesus, heeding His call, leaving our nets, leaving our boats and entrusting our whole life unto Him?
And today as we celebrate the Word of God Sunday, it shows us the centrality of the Word of God in our lives, to read through the scriptures, to make us be aware of who God is in our lives and how God loves us. And the love of God should propel us to walk in this path towards that light.
In the Second Reading as well, Saint Paul reminds the Corinthians that as they seek the light, very often they can be distracted. They can be disillusioned because there are so many teachings that is surrounding them, so one is for Apollos, one is for Paul, one is for Cephas, and one is for Christ. And if we are able to fix our gaze on Jesus, dear friends, what the Lord calls us is a call towards unity.
And let us take a look at our own family, in our own community, in our own relationships, in our own encounters with friends. All of us need to remember that the Lord leads us towards the light and if we have relationship that has been broken, that has been soured for a long time, it is a time that we are given this hope once again in this year ahead to mend those relationships, to leave those securities, to leave those possessions, to leave those memories behind us and to follow after Jesus.
And let us pray, dear friends, as the responsorial psalm says today:-
That the Lord is my light and my help.
Let the Lord guide us as we enter in this way, this year full of hope and allow the Lord to help us in allowing us to experience His love and His mercy. Because what we believe in, what we encounter is not some philosophy but an encounter with Jesus who leads us towards a greater awareness of His love.
And for that, dear friends, we need to read the Word of God. We need to allow scripture to speak to us so that we are able to acknowledge the depth of God's love for us. Even if we are in a hopeless and helpless situation, the Lord restores our hope and gives us this new year ahead to put our faith and trust in Him.
Are you willing to leave your boats, your nets behind and follow Him as He calls you to be fishers of men?
Click below to listen to homily and watch video:-