By Fr Francis Anthony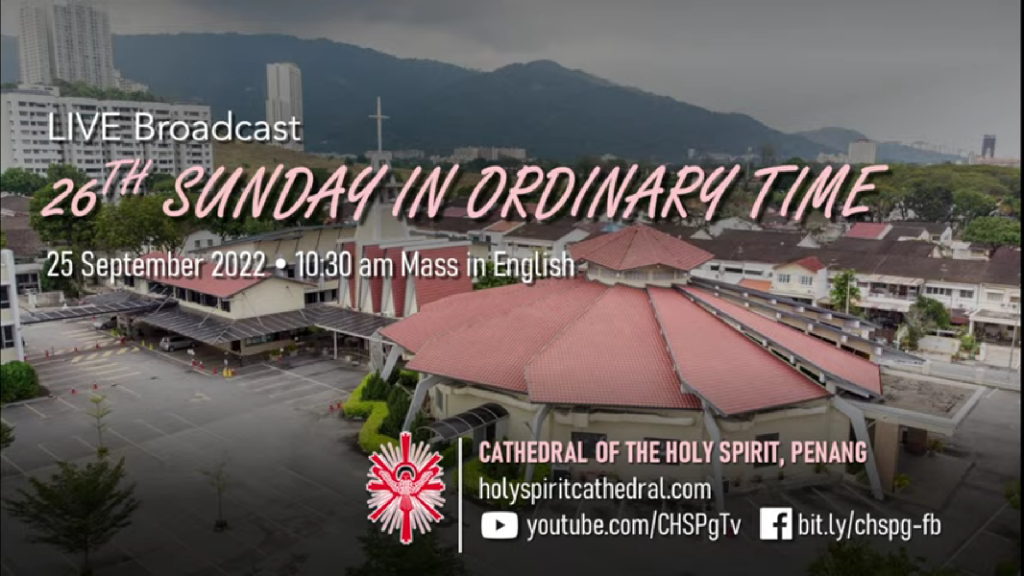 Amos 6:2,4-7
Psalm 145(146):7-10
1 Timothy 6:11-16
Luke 16:19-31
Theme: Love & Care for Others
Today's reading and the prayers is asking us to look beyond ourselves, to look the situation of the people who are around us. Every Mass, as I said earlier, we begin with the greeting and the wishes of the Celebrant to the people, the grace of Jesus Christ (that is the gift of Christ), the love of God (that is for each one of us) and the communion with the Holy Spirit. And we see we are one with the Triune God, a God of love, a God of forgiveness, God of kindness. And we say 'Let this be with you' and you answer 'And with your spirit.' In this way we can see we are being spiritually strengthened.
We have the power of God to act like God. Yes. And that is what is demanded of us.
In the Gospel Reading, you will see the rich man. He had all the material wealth, feasting sumptuously and that is picked up in the First Reading from Amos where the rich were not bothered of the others. They just wanted comfort to be their way of life. And it is very striking – the poor man was abandoned. The poor man's self dignity was abandoned. Even dogs came to lick his wounds. No scrap from the rich man's table came to him.
And this text is being addressed to the Pharisees, among whom were the leaders, and they are always waiting to find fault with others but not to help. And that is always in the scriptures where the Pharisees always were plotting against Jesus. I will cut short to that group of people. Look at 'The poor man died, was carried by the angels to the bosom of Abraham.' That is the blessing. Whereas when the rich man died, he was buried. Finish. There is no second thought. The poor man died and the consequence we will see 'carried by the angels to the bosom of Abraham, is blessed.'
So my dear friends, let us look into our lives. Spiritually we are strengthened. That means to say we have God's blessing, grace (the gift of Christ), love of God and the communion of the Holy Spirit. Spiritually I am strengthened and the demand is made that we live up to that strength given to us. And St Paul, he does not mince any words when he says in today's reading:-
As men dedicated to God
Yes, all of us. That dedication to God is not for religious and priests. For All of us through baptism and those who are preparing for baptism. Dedicated to God. For what? To be saintly, to be religious, to be filled with love of God. To be saintly. Do not think I have to behave like Pope John Paul II. That I have to be a different person compared to the others. I have to be holy and the word I said 'Holy' in English, if I left alone on my own, I would be confused – Holy Pope, Holy Water, Holy Picture, Holy Man.
What is holiness? A kind of adjective. When you see that etymology in the Greek and Hebrew, it is to be different. Yes. To be holy is not to follow the norms of the world. There should be a difference in us. And that is 'filled with faith and love, patient and gentle.' That holiness is filled with faith and love. Again the word of God is seen here. And that makes me to be patient and kind. And Christ of God forgives. He so loved the world that He sent His Son. Yes. Christ loved the world that He gave His life up for us. And if we are not caring for others, the theme in today's Gospel, we will see that we are not sharing God's love for us.
Today is Migrant Sunday, Migrant and Refugees. And we take time to see the realities of the world. Just three days ago, the Migrants, their boat from Lebanon going towards the North and just outside of Syria, it capsized. Seventy one people died. You say it is happening somewhere else. Yes, they are our brothers and sisters. Let us have compassion.
Why are people not to have security in their own country? What is happening? Yes. It has gone beyond us. The rulers, especially the UN, to look into it. What we are doing is we are helping. Yes. They are the ones who should say feed them first before philosophizing. But what if the countries that are responsible for this emigration.
My dear friends, I said it two days ago, and I will repeat it. Looking at all of you. Most of you, if not all, are immigrants to this country. Our grandparents or our great grandparents they came. The situation then, they were given a chance. That is what the Pope is demanding – give the migrants a chance. And the refugees. And if I give my own personal, not experience, situation – My mother's parents and the whole family, her siblings of nine, came over to Malaysia. My father came with his elder sister and brother over here. I am just a second first descendant of migrants. The blessing of God reached out to them through the leaders in those days. If they were not helped by those leaders, whoever they are, I would not be here as your priest.
Give migrants an opportunity to be able to grow. Let us not look down by our slurring words 'Bangladeshi', 'Myanmar'. No. They are our brothers and sisters. Take the Herald for the whole message of the Pope for this occasion. It should prick the conscience of many of us while in our own lifetime we are not bothered of the migrants. Let us be a people who are reaching out to others.
And the church has got, at least this Parish, a lot of means (I don't want to go and name all of them) where we spend time for others. At the moment, about 30 parishioners are on the road and some should have reached Kampar to help with the doctors and the nurses, the migrants there.
Secondly, you see the cross there. It is something the youth were celebrating. The cross going from parish to parish to remind us that Christ in our midst, should not be bottled up. Christ in our midst should be brought to the world by us, not missionaries, not that person. All of us.
Whether we are people who are willing to share or are we the modern day rich man, not bothered of others?
Let us ask God to give us the strength to reach out to others. See the need and to respond to the need.
Click below to listen to the homily and watch the video:-