by Fr Francis Anthony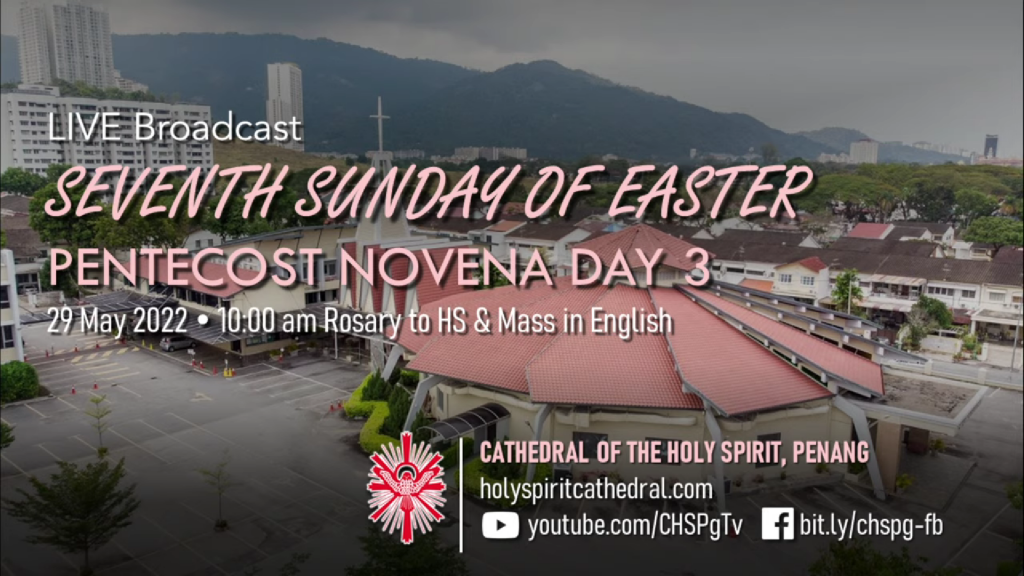 Acts 7:55-60
Psalm 96:1-2b,6-7,9
Apocalypse 22:12-14,16-17,20
John 17:20-26
Theme: May They Be Completely One
My dear friends,
We celebrated Ascension on Thursday and waiting for that descent of the Holy Spirit on the coming Sunday, Pentecost, which is also the Feastday of this parish, The Holy Spirit.
It may appear that we are in a kind of a limbo. Jesus gone, the Holy Spirit is not with us. That is what I meant of being in a kind of a limbo. But we are all attuned to this praying of the Rosary, Holy Spirit Rosary, which is before all this, the Novena Masses. I would like you personally to go back, take your Bible, take John's Gospel Chapter 17 and read it slowly.
When we come to know that, then we are not in a limbo. Chapter 17, the whole chapter. It is not very long. And the uniqueness of this Chapter is God restoring, Jesus giving praise and glory to God for having been with him to accomplish his mission. The thanksgiving that Jesus is saying at this moment. That is the first nine or ten verses.
The second part, which is from verses eleven to twenty or twenty two, He is praying for the apostles in their midst, in the upper room. He is praying for them because they are to continue His mission. And He is praying that they would be faithful and to be strong enough to bring about the teaching of Jesus.
And in today's episode, Jesus is praying for all of us. Yes. We like people to pray, we will offer Masses. Do we realise that Jesus, on His own before we requested, He prayed for all of us as the text says:-
I pray not only for these in the upper room (the apostles there) but those who through their words believe in me.
Yes, the apostles did not preach to any one of us but the teaching has been handed down from one generation to another through the various Saints, through the various Martyrs, through the various Missionaries, through the various Catechists. That teaching of Christ has been handed down to us and today, God is, Jesus is praying for us.
And what is His prayer? That they may be one as you, Father, and I are one. That we will be able to be united and bring God's message of love, of unity, to the world through our way of life. So I repeat, my dear friends, as part of your exercise for this week of preparation for Pentecost, read this Chapter 17, the whole Chapter and when it comes to the last part, verse twenty or so, then you see Jesus praying for us.
If Jesus has prayed for us, how important we are! Let us not go around and say I am a sinner, I'm hopeless, I'm not faithful. No. Jesus is praying for us so that united with Him we will be able to bring God to others. Yes. United with Him through our way of living, united with Him through our prayer life, united with Him through the gifts of the Holy Spirit, we will be able to bring Him to others.
So let us ask God to help us. It may be difficult. Like you see in the First Reading, Stephen, just a Chapter earlier, Chapter 6 of Acts, he was nominated as one of the deacons and in Chapter Seven, he is talking and had a vision. And it is the Spiritual Leaders, as the text here says, it is the Spiritual Leaders of Israel who threw him out and stoned him to death because their belief is not what God is teaching them. Their belief is a concoction of what they think God should be. Yes, in our midst, among us Christians (I am not speaking of others), there are a lot of people who make religion as their toy and as a personal gamble. No. He is to be faithful, faithful to what he has learned in the same tradition which the Spiritual Leaders have learned. Stephen, he came to know Christ through the Old Testament and he understood what is the meaning of this person.
So let us ask God to come to us, that is in the Second Reading:-
Come, Lord Jesus, make me to be a disciple of hope, a disciple of consolation to others. Let me bring Your message and not my own idiosyncrasies.
Click below to listen to the homily and watch the video:-